The world of collaboration and project management is complex at best and confusing at worst. That is where tools like Trello and Microsoft Planner come in handy.
Trello has established itself as the go-to project management and collaboration tool. But with the launch of Office 365 Planner as a Microsoft alternative to Trello, the debate over Trello vs. Planner has only intensified.
So, here's a comparison of the two software to help you choose between Microsoft Planner vs. Trello.
What is Trello?
Trello is a project collaboration tool popular for its simplicity and ease of use. With its real-time activity feed, a vast list of integrated apps, options to invite non-members, kanban boards, etc., Trello is one of the most popular choices for collaboration tools.
Features
Some of the best features of Trello include:
Trello Board

gives you an overview of task assignments, Timeline view for project planning, Dashboard view for productivity metrics, Calendar view for time management, or Table view to connect work across boards.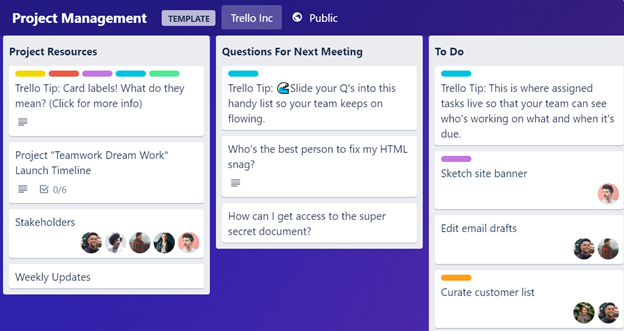 Cards help you easily manage, track, and share tasks with teammates. Packed with helpful features like- checklists, attachments, reminders, or due dates, Cards also include comments and emoji reactions for team members.
Integration Trello comes integrated with Confluence, Slack, Dropbox, Google Drive, Evernote, etc. Besides apps you already use, the hundreds of available Trello Power-Ups help fine-tune specific needs of your workflow.
No-Code Automation Trello Butler reduces tedious tasks on your project board. From everyday actions like moving lists, creating custom buttons to building processes, or reminding of upcoming deadlines, Trello's automation streamlines your entire workflow.
Pros and Cons
Here's a quick rundown of Trello's pros and cons.
Pros

Cons

Free and easy to begin. The intuitive and fast interface has no bloat to ensure efficient work speed.
Real-time activity feed to monitor timelines easily
100+ tool integration.
Comes with several Kanban board templates
Unlimited number of checklists and subtasks that to add to your card.
Option to invite non-members through their email addresses.

Not suitable for large companies or businesses.
Calendar view, exporting, time-tracking, etc., require paid subscriptions.
Can't be used as a scrum tool or scrum board since it lacks features such as estimation points, agile reports, user stories, etc.
File attachments and uploads are limited to 250MB.
My Tasks offers limited sorting and grouping, no single hierarchical view of tasks and subtasks.
What is Microsoft 365 Planner?
Microsoft Planner is a project management software that comes with the Office 365 subscription. Being quite similar to Trello in terms of functions and features, MS Planner is a competitor and alternative for Trello.
Microsoft 365 Planner allows you to easily organize and monitor your work via its simple task management. Packed with features like Checklists, Labels, Assignees, and Due Dates, this tool connects to all the applications in Office 365, making it a very convenient choice to simplify task management for teams.
Features
Some of the prominent features of Microsoft Planner are:
Task Organizing, you can design and structure all tasks visually.
Schedule View lets you view the start or due date for all your tasks in the built-in calendar. Due to its integration with Office 365 software, Planner also enables you to display your calendar in Outlook.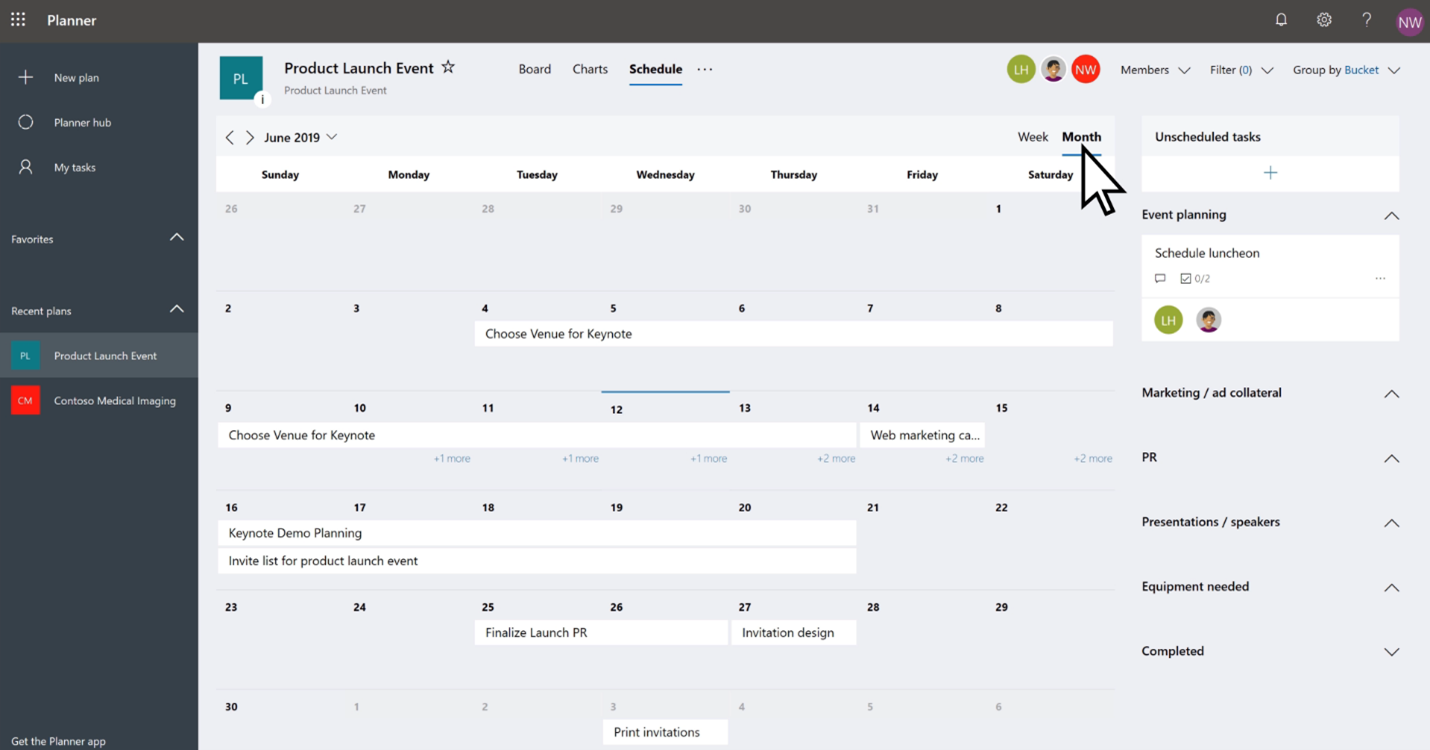 Dashboards

are where you can analyze tasks according to status, get an overview of all open or completed tasks, and visualize project progress and overdue tasks with different kinds of charts. 

Task Management Integrated with Outlook and Teams, MS Planner makes it easy to track and monitor all your tasks, with options for team members to comment or attach files on the task. Besides, with Microsoft Planner, you can also assign tasks to more than one team member.
Email Notifications Besides automatically alerting team members of any changes/updates, Microsoft Planner also sends reminders via email.
Cross-Device Availability Microsoft Planner is available across different platforms and devices- on the web, PC, and iOS or Android as an app.
Pros and Cons
Like Trello, Microsoft Planner comes with a fair share of pros and cons:
Pros

Cons

Simple interface, intuitive usage.
Built-in Calendar feature for tasks and due dates.
Deep integration with other MS software like One Note, Teams, etc.
Customizable Kanban cards with space for description, checklists, labels, assignees, and comments.
Planner Hub breaks down tasks into detailed reports on where you spent your time the most.
Office 365 integration offers accessible communication through MS Teams.
Automatically notifies all members of changes/updates.

Limitation of a single checklist per task and a maximum of 20 checkboxes.
Lack of Burn Down charts, Cumulative Flow diagrams, etc.
Comments lag feature to mention teammates by tagging, as well as character limits.
Bundled with Office 365, you pay for the other software that you may not use.

Trello vs Microsoft 365 Planner Comparison 
Microsoft 365 Planner and Trello are both valuable and efficient tools. But with all their features, similarities, and dissimilarities, making the call between Trello vs. Microsoft 365 Planner is a difficult task.
So, which of these should you select for your needs? Here's a comparison between Trello and Microsoft Planner to help you make your choice:
| | | |
| --- | --- | --- |
| Feature  | Trello | Microsoft Planner |
| Non-member invitation | Possible Through Email | Unavailable for non-team members |
| Checklist and Checkbox | Multiple checklist and checkboxes | Only one checklist per task, 20 checkboxes limit |
| Built-in Calendar/ Time-keeping |  Only with subscription | Built-in calendar |
| Kanban Board Templates | Yes | No |
| Generating Detailed Reports about asks and Processes | No | Yes |
| Moving Tasks Across Cards | Manual copy/paste | Manual copy/paste |
| File Upload Limit | 10 MB per attachment | 104 MB per attachment in a task |
| Comments | Has character limits | Character Limit much shorter than Trello |
| Advantages | A massive list of integrated tools and Power-Ups | Native to Microsoft, Included with Office 365 |
Find out more about project management complexities when using Microsoft Planner in our article 'What are the key project planning challenges?'.